One-Zipper Entrance Sidewall (Clear or Solid White 10' long x 7' or 8' high)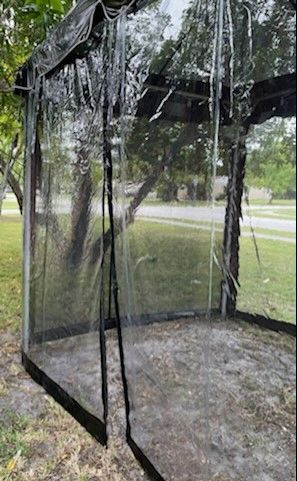 One-Zipper Entrance Sidewall (Clear or Solid White 10' long x 7' or 8' high)
(Commercial Supreme Quality 20 Gauge Heavy-Duty-16 Lb. plus weight) 

1.  Above price includes either, One - 10 foot long by 7 or 8 feet high Supreme Commercial Quality "One-Zipper Entrance Sidewall with Colored Border" constructed out of heavy-duty 20 gauge waterproof Clear Vinyl that is mildew retardant, or one solid white 13 Oz. vinyl sidewall that is waterproof and mildew retardant. The entire curtain is reinforced with double-ply colored vinyl  trim and stitching around pin-point tension locations. The sidewall curtain also includes a 2 inch (approx.) "Supreme-Velcro" vertical end-attachment on one side with its adjoining stick-on piece on the other side; this ensures a, relatively, sealed enclosure (maintains the enclosure cool if air-conditioned or dry if it is raining) when connecting one sidewall curtain to the other. High-strength plastic clips are evenly spread out from end-to-end along the top length of the sidewall curtain in order to safely attach it to the vinyl top. Grommets evenly-spaced out (approx. every 5 Ft.) on bottom of sidewall with Grommets on both sides of the sidewall. Border color surrounding the clear sidewall may be selected from color swatch below.
Select the color that you wish to be used on the border and zipper-trim of the clear sidewall from the color swatch shown in the picture.
Note: Other custom sizes, design, and colors (other than clear and white) are available. Please call us for pricing on any custom size, color, or design that you require.