Greenhouse Shade Tops (Available in a multitude of sizes, colors, and 5 to 100% Shade)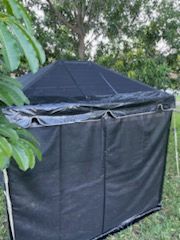 Greenhouse Shade Tops (Available in a multitude of sizes, colors, and 5 to 100% Shade)
Note: This particular web-page is only for reference; it is not for ordering or buying.

 

Do not click on 
"Add To Cart"
 since it will be invalid.
Our Greenhouse Shade Structure tops are custom made and range from 5% to 100% sun blockout and shade. Please read the description below so that you can appreciate the difference between our shade tops, as opposed to a standard shade tarp. Our custom  tops are available in a multitude of sizes, colors, and shade fabrics, including  commercial quality fire retardant  black and white 10 Oz. mesh (Green and other mesh colors not available in F.R.) and 13 to 16 Oz. fire retardant (NFPA-701) vinyl in a variety of solid and striped colors. We can also custom manufacture tarps for our structures or your own structure in a variety of colors, vinyl fabrics, and patterns. Please call us at 844-756-4495 for additional information. 
(Click on Blue Arrow Below)



Top/Cover also includes many of the following features for the best of quality:



a. 

tough 10 to 16 Ounce Vinyl Top/Cover

 

(other color & fabric options are available) 
b. 

Double-Ply Vinyl Patches at peak of top/cover

 for added reinforcement and protection at crown area
c. 

Extra-Thick Vinyl along Valance perimeter

 for added protection when pulling on straps
d. 

Stainless Steel buckles on straps
e. 

Supreme Velcro overlaps

 at ends
f. 

High-Strength Denier Rating
g. Top/Cover 

includes bag for storage
h.****************************************************************
i. 

same price

 for 

scalloped or non-scalloped valanc

e
j.

one-piece or expandable tops available for many sizes
k. 

flame certification patch on underside of covers (Green Mesh not available in F.R.)
l. 

Reinforced stitching

 throughout tent
m.

 polyester side-curtain (sidewall) rope

 securely reinforced around tent perimeter
n. 

heat-sealed construction

 throughout tent top/cover with stitched reinforcement