Used 40' x 60' Frame Tent w/ New Top (Single and Twin Tube Hybrid Aluminum with Brand New White 3-Piece Heavy-Duty 18 Oz. Top)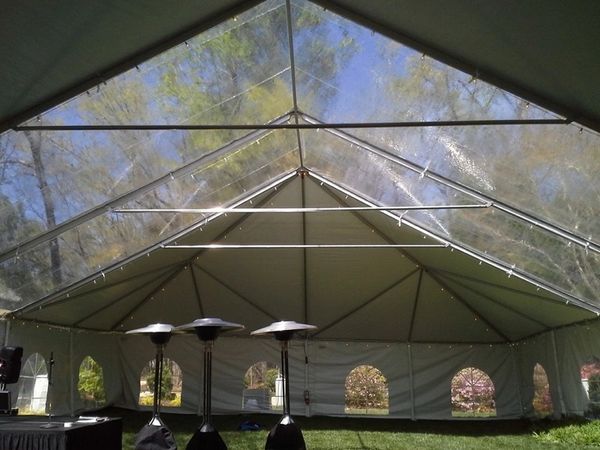 Used 40' x 60' Frame Tent w/ New Top (Single and Twin Tube Hybrid Aluminum with Brand New White 3-Piece Heavy-Duty 18 Oz. Top)
Note: 

This "Used frame tent" is a commercial-quality T

win-Tube Hybrid Frame Tent

not to be compared with less expensive single tube frame tents.The tent frame is in excellent condition since it was used previously for only 5 events with a different top. The 3-Piece White top being sold with this tent is brand new and is a heavy-duty 18 Oz. top.
The entire tent as priced will become available within the next 3 to 4 months, or sooner. The best buyer candidate is, most likely, a potential customer willing to visit the Miami, FL area in order to inspect this practically-new frame tent. The seller is very motivated and may consider an immediate sale if the buyer is willing to purchase at this advertised price. Buyers from other states are welcome to purchase this tent also but must also agree to buy in an "as-is" condition (tent frame is in A-condition with the top being in AAA-condition (AAA brand-new).
 The seller

 will arrange the delivery of the tent to prospective buyers in Florida and to other cities and states along the NorthEast Interstate-95 corridor up to Massachusetts for a fee to be determined, depending on the exact location of the delivery. Buyers also have the option of picking-up the tent in the Miami area if they do not wish to incurr the shipping charge. Please keep in mind that the 40 x 60 contains eight 22' long twin-tube trusses and sixteen 14' plus single tubes if you are planning on picking this tent up in Miami. All interested buyers please contact Carpa Supply at 844-756-4495. 
(Click on Blue Arrow Below)
1.  

Above price includes the 

complete anodized aluminum used tent frame

 (similar to that shown in the pictures with three-crossbars) containing 

2 inch anodized aluminum O.D. tubing

, 

18 Oz. 

waterproof, 3-piece White vinyl top/cover

 with sun blockout and 

flame and mildew retardancy

. Also included are 

anodized 

aluminum adjustable legs (7 Ft. to 10 Ft. high),

 and all other required 

galvanized steel

 frame fittings

 (fittings are 1-3/4 inch O.D. galvanized steel)

. 
Advertised Price includes the following frame parts:

 

 
Four- corner fittings, Ten-mid-leg rafters, Two-6-way crowns, One- 4-way top (expansion) fitting, Four-airplane fittings, Six- 6-way side fittings, Eight- 125-1/2 inch tubes (2 inch O.D.)

, Sixteen-172 inch tubes (2 inch O.D.), Twenty-Two -112 inch tubes (2 inch O.D.), 

Eight- 21'-6" (22') 

double-barrel twin-tube trusses

 (4 inch combined O.D.)

,

Three-Crossbars

, and T

wenty- adjustable legs with bases

 (2 inch leg insert).


 

Other accessories such as, sidewalls, stake pullers, portable heaters, cooling fans, and portable air conditioners may be found on this website. They may be found in the relevant categories located on the blue toolbar on the top of our website pages. 
2.  Tops/Covers also includes the following features for the best of quality:
a. Brand-NewHeavy-Duty Commercial-Grade 

White Vinyl 18 Oz. Top/Cover

 
b. Double-Ply Vinyl Patches at peak of top/cover for added reinforcement and protection at crown area
c. Extra-Thick Vinyl along Valance perimeter for added protection when pulling on straps
d. Stainless Steel buckles on straps
e. Supreme Velcro overlaps at ends
f. High-Strength Denier Rating
g. *******************************************
h. *******************************************
i. scalloped valance
j. ********************************************
k. flame certification patch meeting Fire Marshall Codes on underside of covers
l. Reinforced stitching throughout tent
m. polyester side-curtain (sidewall) rope securely reinforced around tent perimeter


n. heat-sealed construction throughout tent top/cover with stitched reinforcement