*Complete Adjustable Leg Bottom with Leg Insert Tubing (All Anodized Aluminum for 8 Ft. to 20 Ft. Wide tents) - Click on Pictures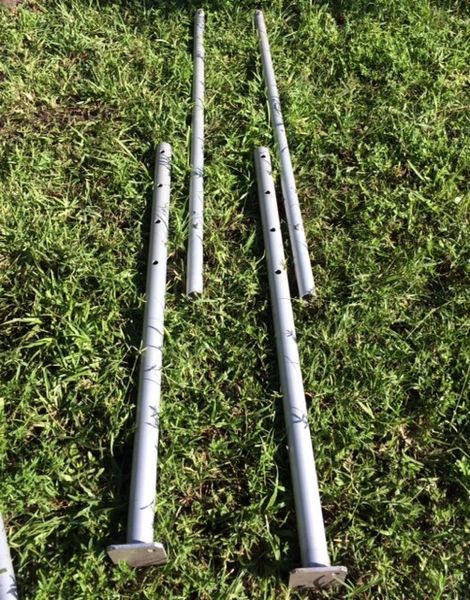 *Complete Adjustable Leg Bottom with Leg Insert Tubing (All Anodized Aluminum for 8 Ft. to 20 Ft. Wide tents) - Click on Pictures

Above price includes the all

anodized aluminum

2 inch O.D. Adjustable-Leg Bottom with welded on base-plate and separate 

anodized aluminum

1-3/4 inch O.D. leg-insert tubing. The two combined pieces form a complete adjustable leg

that 

may be used for frame tent sizes between 8 Ft. to 20 Ft. Wide
The complete assembly adjusts from 6-1/2 Ft. high up to 8 Ft. high.
 (Click on Blue Arrow Below)

 
Note

:  Above price includes the

5 Ft. long "leg insert" tubing which is 1-3/4 inch O.D. anodized aluminum

with 1/8 inch thick walls (plus push-button pins)

plus the "leg bottom" tubing with welded-on base plate which is 2 inch O.D. anodized aluminum

with a 1/8 inch thick wall (the leg bottom contains the holes necessary for attachment to the push-button pins on the leg insert tubing as per the sketch/picture).

If you only need the leg insert or the leg bottom you may order them separately (refer to those prices in the "Accessories" category)
 We really would like for you to try our products and appreciate an opportunity to do business with you!