*Aluminum 1-3/4 inch O.D. Leg Insert (For Adjustable Leg Set-Up on 8 Ft. to 20 Ft. Wide Tents) - Click on Pictures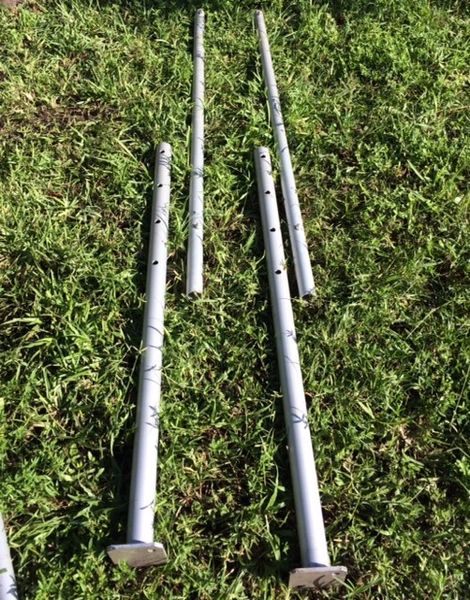 *Aluminum 1-3/4 inch O.D. Leg Insert (For Adjustable Leg Set-Up on 8 Ft. to 20 Ft. Wide Tents) - Click on Pictures

(Click on Blue Arrow Below) 
Aluminum Leg Insert tubing may be used for frame tent sizes ranging from 8 Ft. to 20 Ft. Wide
When used with the proper aluminum leg-bottom with base-plate (sold separately), it allows for the frame to adjust from 6 Ft. - 6 inches High up to 8 Ft. - 6 inches High
 Note:  Above price includes only the 5 Ft. long, 1-3/4 inch O.D. "aluminum leg insert"  tubing part of the green sketch picture. If you need the entire aluminum adjustable leg set-up you may order it also (refer to the "adjustable-leg" price in the frame fittings and accessories category)
1. Additional discount for first-time party-rental customers.
2. Special House discount for all customer - combined - orders exceeding $10,000, excluding tax.
3. Please contact us by e-mail for additional discounts, mentioned above, if your order meets the criteria
We really would like for you to try our products and appreciate an opportunity to do business with you!