50' x 50' Frame Tent (Single & Twin Tube Hybrid Aluminum)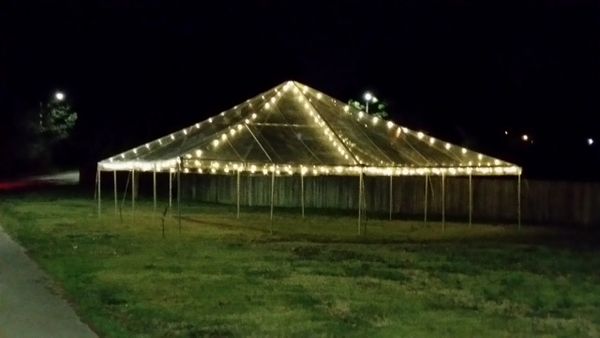 50' x 50' Frame Tent (Single & Twin Tube Hybrid Aluminum)
Note

: 
This frame tent is a commercial-quality twin-tube frame tent not to be compared with less expensive single-tube frame tents
.This tent size is very popular for large-size gatherings, such as, wedding receptions & sweet fifteens/sixteens celebrations, church revivals, large company gatherings, boat covers for multiple quantities of boats, carport for large quantity of vehicles or small trucks, patio furniture or swimming-pool cover, etc.
No tools required for assembly
.
(Click On Blue Arrow Below)
1.  Above price includes the 

complete anodized aluminum tent frame

 containing 

2 inch O.D. tubing

 with 1/8 inch wall thickness (See two sketches shown on picture selection- shorter version of the 50 x 100 diagram shown but without the middle frame parts and cross-bars.), 2-Piece

16 Ounce White vinyl top/cover

 with sun blockout (

or any other color or color with white-stripe combination in

 red, blue, green, yellow) that is 

waterproof

 and

 

flame and mildew retardant (Meets Fire Marshall Codes)

, storage bag, 

all aluminum adjustable legs (7 Ft. to 10 Ft. high)

 , 

double-barrel anodized aluminum rafters (trusses)

and all required 1-3/4 inch O.D. galvanized steel frame fittings. 
Advertised price includes the following:

 

corner fittings, mid-leg rafters, crowns, airplane fittings, side fittings, 2 inch O.D. tubes

, 

double-barrel twin-tube trusses

 (2 inch O.D.)

, and 

adjustable legs with bases

 (2 inch O.D. leg insert).

 
Stakes, ropes, sidewall-curtains, ratchets, and ratchet straps are not included

 (refer to "Accessories" link for pricing)

2.  

Top/Cover

 also includes the following features for the best of quality

:

a. tough 2-Piece

16 Ounce Vinyl Top/Cover

 (other colors and stripe combinations available - see below)
b. Double-Ply Vinyl Patches at peak of top/cover for added reinforcement and protection at crown area
c. Extra-Thick Vinyl along Valance perimeter for added protection when pulling on straps
d. 

Stainless Steel buckles

 on straps
e. Supreme Velcro overlaps at ends
f. High-Strength Denier Rating
g. Top/Cover includes bag for storage
h. 

same pric

e for all colors or color-with-stripe combinations
i. 

same price

 for scalloped or non-scalloped valance
j. 2-piece expandable vinyl top
k. Flame Certification Patch on underside of all covers
l. Reinforced stitching throughout tent
m. polyester side-curtain (sidewall) rope securely reinforced around tent perimeter
n. heat-sealed construction throughout tent top/cover with stitched reinforcement

3. 

 You may choose, instead of a white top/cover

, other solid colors (see pictures) that come in 16 Oz. expandable or non-expandable with sun blockout, flame/mildew resistance, and waterproof vinyl. Please note, however, that sun blockout is not available for the color yellow when ordering a solid yellow color for the entire cover.

You may also choose, instead of a white cover or solid color

, one of our solid colors with white-stripe combinations which come in 16 Oz., expandable or non-expandable, with sun blockout, waterproof vinyl, and flame and mildew resistance. The available colors for, either, the solid color tops/covers, or, the solid colors with white-stripe combination, are red, blue, green, and yellow. 

Clear (transparent)

 tops are available for an additional charge(see pictures)

.

4.  Additional discounts for 1st-time party-rentals.

5. Special House discount for all customer - combined - orders exceeding $10,000, excluding tax.

6. 

Please contact us by e-mail or phone for additional discounts mentioned above, if applicable, and to also get the lowest available shipping rate quote for your order

. We also require a call or e-mail to us for all orders that include a top/cover so that we can confirm which top/cover color/design you would like; you also have a choice between ordering an expandable or non-expandable (one-piece) top/cover and scalloped or non-scalloped (straight) valance. There is no price difference between these choices unless you are ordering a clear (transparent) top/cover.
Product Description



Traditional-Style Tents

This classic tent style is used the most throughout the industry. Standard covers are 16 Oz. White vinyl with sun blockout and flame and mildew resistance; covers are also available in a variety of other colors and stripe designs that include clear, red, blue, green, and yellow. The covers are designed to attach to the frame with straps and 

stainless-steel buckles along the inside tent perimeter

 and come with 

valances containing scalloped or non-scalloped edges

.