30' x 40' Disaster Relief Frame Tent / Shelter Package (Single & Twin Tube Hybrid Aluminum)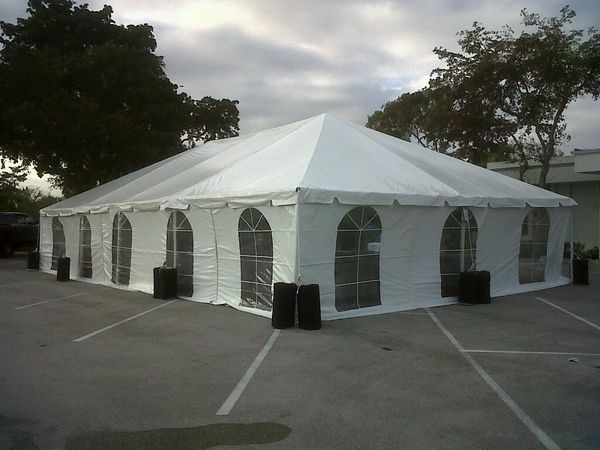 30' x 40' Disaster Relief Frame Tent / Shelter Package (Single & Twin Tube Hybrid Aluminum)
Note: 
This frame tent is a commercial-quality twin-tube frame tent not to be compared with less expensive single tube frame tents
. It is very useful for supplying shelter to multiple people after natural disasters or for many other purposes that may arise. 
No tools required for assembly (except for cross-bars)
. This particular tent may be comfortably used for sleeping quarters for, approximately, 24 to 36 people or serve as a cafeteria-style mess hall for, approximately, 120 to 150 people.
(Click on Blue Arrow Below)
1.   Above price includes the 

complete anodized aluminum tent frame

 (similar to the 30' x 30' and 30 x 50 pictures shown ) containing 

2 inch anodized aluminum O.D. tubing

, 

16 Oz.

 

waterproof (18 Oz. available for an additional charge), White vinyl 3-piece top/cover

 with sun blockout and 

flame and mildew retardancy

. Also included are 

storage bags

 for the top/cover, 

anodized 

aluminum adjustable legs (7 Ft. to 9-1/2 Ft. high),

 and all other required 

galvanized steel

 frame fittings

 (fittings are 1-3/4 inch O.D. galvanized steel)

.   
Advertised Price includes the following:

 
Entire Frame with both single and twin tubes, adjustable legs with bases, fittings, and vinyl top
Ten - Stakes (30" long double-head steel) and ten - heavy duty ratchet straps (1" wide) are included.
The price also includes two - 30' long x 8 foot high, four - 15' long by 8 Ft. high, and two - 10 foot long x 8 foot high solid white (13 Ounce) sidewalls. One - 30 foot long Cathedral-Window sidewall may replace one of the 30 foot long solid white sidewalls at no additional cost. Other sidewall options are available (please inquire)

.

Other accessories such as, stake pullers, portable heaters, cooling fans, and portable air conditioners may be found on the "Accessories" and/or other links located on the blue toolbar on the top of our website pages. 
2.  Tops/Covers also includes the following features for the best of quality:
a. Heavy-Duty 3-piece

White Vinyl Top/Cover

 
b. Double-Ply Vinyl Patches at peak of top/cover for added reinforcement and protection at crown area
c. Extra-Thick Vinyl along Valance perimeter for added protection when pulling on straps
d. Stainless Steel buckles on straps
e. Supreme Velcro overlaps at ends
f. High-Strength Denier Rating
g. Top/Cover includes bags for storage of Top


h. *****************************************************


i. 

same price

 for scalloped or non-scalloped valance
j. Vinyl Commercial Quality Top
k. flame certification patch meeting Fire Marshall Codes on underside of covers
l. Reinforced stitching throughout tent
m. polyester side-curtain (sidewall) rope securely reinforced around tent perimeter


n. heat-sealed construction throughout tent top/cover with stitched reinforcement