*30' x 7' or 8' Cathedral-Window Tent Sidewall SuperSale (Premium Commercial Quality White 13 Oz. w/ blockout & 20 Gauge Clear Windows )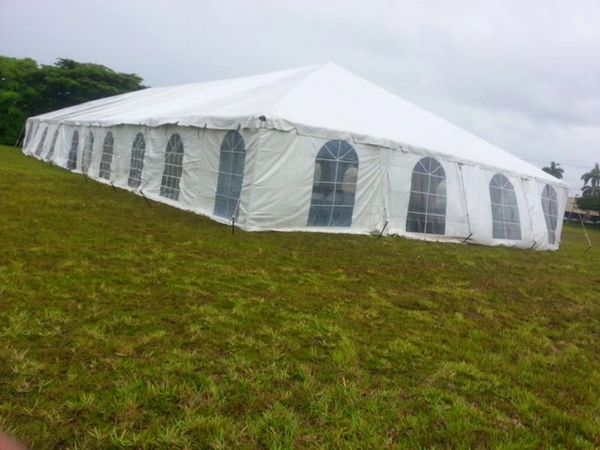 *30' x 7' or 8' Cathedral-Window Tent Sidewall SuperSale (Premium Commercial Quality White 13 Oz. w/ blockout & 20 Gauge Clear Windows )
(Commercial Quality 13 Oz. w/ blockout & 20 Gauge Clear Windows) 

1.  Above price includes: One - Premium Commercial Quality sidewall curtain constructed out of heavy-duty 13 Oz. waterproof white vinyl that is mildew & flame-retardant and that also contains sun blockout. The sidewall curtain includes large 20 gauge Cathedral-Style Clear Vinyl Windows (see pictures); the entire curtain is reinforced with double-ply White Vinyl  trim and stitching around pin-point tension locations. The sidewall curtain also includes a 2 inch (approx.) "Supreme-Velcro" vertical end-attachment on one side with its adjoining stick-on piece on the other side; this ensures a, relatively, sealed enclosure (maintains the enclosure cool if air-conditioned or dry if it is raining) when connecting one sidewall curtain to the other. High-strength plastic clips are evenly spread out from end-to-end along the top length of the sidewall curtain in order to safely attach it to the vinyl top. Grommets evenly-spaced out (approx. every 5 Ft.) on bottom of sidewall with 3 Grommets on both sides of the sidewall.
Distributor's Choice Lap-N-Flap Style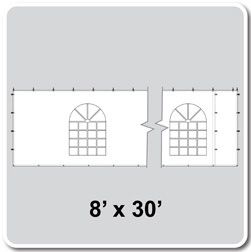 Cathedral Window Sidewalls add stylish visibility to all tent-related events. Made from double-polish clear PVC vinyl with non-scratch window lines layer in between, cathedral windows are attached to sidewalls made from 16 oz. block out vinyl for durability. Cathedral window sidewalls can be used in conjunction with other sidewalls to form unique tent appearances.  Tabs that secure the spring clips to attach the sidewalls to the tent are color-coded for easy length identification. Window sidewalls overlap the adjoining wall and connect with side release buckles to reduce wind & rain intrusion.