4-Pack - 1 Inch x 15 Ft. Extra-Long Heavy-Duty White Polyester Tent Ratchet Straps (USA-Made 1000 Lb. WLL with D-Ring & Snap Hook (1.5 Foot long ratchet-end & 13.5 Ft. Strap-end) - Click on Picture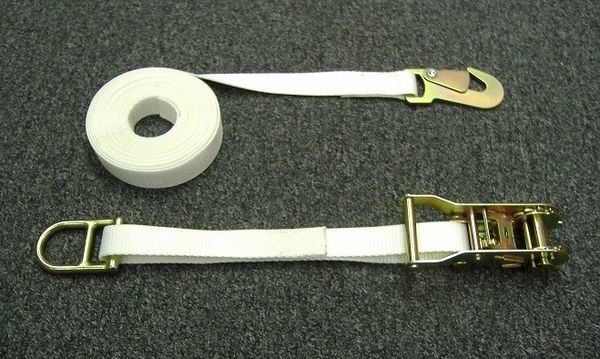 4-Pack - 1 Inch x 15 Ft. Extra-Long Heavy-Duty White Polyester Tent Ratchet Straps (USA-Made 1000 Lb. WLL with D-Ring & Snap Hook (1.5 Foot long ratchet-end & 13.5 Ft. Strap-end) - Click on Picture
Extra-Long 15 Ft. ratchet straps allow more versatility. Why be limited by an inventory of shorter ratchet straps that are good for only some of your tent set-ups. Whether your tent is adjusted at 7, 8, 9, or 10 Ft. high, or whether you choose a 0, 15, 30 or 45 degree angle for staking, these straps will fit your needs.
4-Pack of 1 Inch Extra-Long Heavy-Duty White Polyester Tent Ratchet Straps offered by Carpa Supply (Made in the USA) are very strong and are built to stand up to the rigorous conditions encountered in the commercial tent industry. This high quality ratchet strap contains a D-Ring and a Snap-Hook (D-Ring on the 1.5 Foot long ratchet-end and Snap-Hook on the other 13.5 Ft. Strap-end) and is composed of thick 1000 Lb. (499 Kg.) WLL polyester and Breaking Strength of 3000 Lb..



We really would like for you to try our products and appreciate an opportunity to do business with you!