12 inch Versa-Kool Pole-Mounted Patio Circulation Fan for Single-Tube Frames (Model VK12TF-SPM-W) with standard pole mount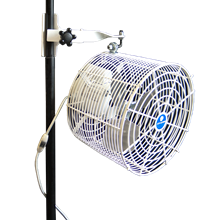 12 inch Versa-Kool Pole-Mounted Patio Circulation Fan for Single-Tube Frames (Model VK12TF-SPM-W) with standard pole mount
Pole Mounted Fan for Single-Tube Frames
This sale price is only available for orders shipping within the continental United States and including one of our tent or structure products. It is limited to certain states and locations. Please call us to see if you qualify for this offer.
 Pole mounted premium quality circulation fans are ideal for patio canopies,  greenhouses, tent cooling, heat circulation, and detracting bugs.
The all-white fans blend in with most structures and are so quiet you don't hear them, you only feel them. Simply mount them on the structure  side poles and turn them on. Use one circulation fan every 15-20 feet.
Features and Benefits:
Mounts onto structure poles, saving floor space

Wide variety of mounting options available for flexible and easy installation

Quiet operation, high efficiency and output

Easily stored and transported

Misting kits available for even greater cooling

Fixed-Mount Circulation Fans


Reduce heat stress and improve air quality with Schaefer's uniquely designed circulation fans. Unrivaled in the market, these fans are engineered to produce greater air movement and superior cooling no matter the application. You don't hear them. You don't see them. You only feel them!

Also known as Horizontal Air Flow (HAF) fans, these fans move air in a coherent horizontal pattern creating a gentle 'racetrack' air flow pattern needed in greenhouses to maximize heat distribution and humidity control by mixing the air, from ceiling to floor.

Features and Benefits:

Deep guard design for unmatched performance, low noise levels and safety without sacrificing airflow
Matched high quality motors and blades for maximum efficiency
Powder coated steel guards for increased durability and corrosion resistance
Hot dipped galvanized guards on VK12-GA and VK20-GA models for even greater rust protection
Powder coated steel mounting bracket and power cord included
Wide variety of mounting options available for flexible and easy installation
Variable speed controls available
Misting kits available for even greater cooling
Two year warranty
Made in the USA

Mount models without OSHA guards seven feet or higher.




VK12TF-SPM-W

12" Versa-Kool Circulation Fan with channel pole mount

BESS Lab Performance Test No.:

12369

CFM Calculation Standard:

ANSI/AMCA Standard 230-99

CFM Range (Free Air):

1001 - 2500

CFM/Watt (free Air):

14.4

Component Certifications:

Motor - CSA

Guard Material & Coating:

Powder Coated Steel

Guard Spacing (inches):

1/2 - 1 UL507

Mount Type Included:

Pole

Power (Voltage & Phase):

115/230 Single Phase

Product Weight (pounds):

20

Speed Control Compatible:

No

Able to Ship Small Parcel:

Yes

Product Shipping Dimensions:

15 X 14 X 16