Used 10' x 20' Frame Tent SuperSale (Single Tube Aluminum) (Variety of Colors in 1 or 3-Piece)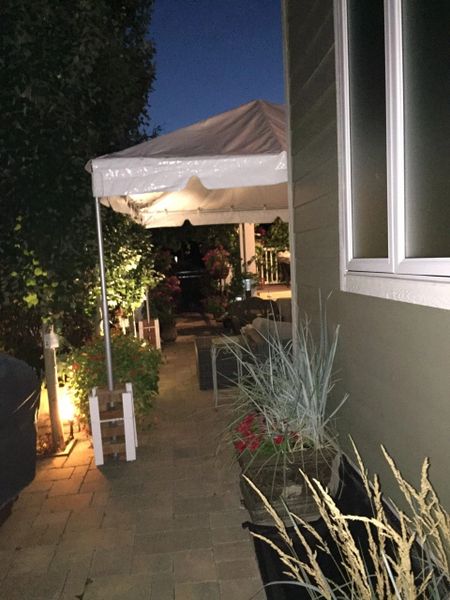 Used 10' x 20' Frame Tent SuperSale (Single Tube Aluminum) (Variety of Colors in 1 or 3-Piece)
This used 10 x 20 frame tent is in fairly good condition and is available, preferably, to customers on the East-Coast of Florida or Georgia that are willing to either pick it up at our North Miami Beach, FL office/warehouse, or willing to pay the agreed-upon shipping expense to their respective East-Coast locations. This is a final sale and the customer must agree to buy the tent in an "as is" condition.
1.  Above price includes the 
complete used 1-3/4 inch O.D. anodized aluminum tent frame with 1/8 inch thick walls
, 
16 Ounce one-piece used
White top/cover
 with 
sun blockout
that is 
waterproo
f
 and 
flame and mildew retardant.
  The price also includes
 all required 
2 inch O.D. aluminum frame fittings

 with 1/8 inch thick walls and custom-welding
 (refer to pictures of different fitting types). 

Stakes & ratchet straps, water drum barrels, ropes, and sidewall curtains,  are not included in the advertised price; however, they may be included together with the purchase of this tent by adding them to the cart

 rate using the relevant category toolbar on the top of our web pages (in the blue section)

. Additional accessories such as, sidewalls, stake pullers, portable heaters, cooling fans & portable air conditioning are available on this website also (refer to the other product categories on the blue toolbar section on the top of our website pages).
2. 
 Used 

Top/Cover is in fairly good condition and

 includes the following features for the best of quality:
a. tough 1-piece used 
16 Ounce Vinyl Top/Cover
b.

 Double-Ply Vinyl Patches at peak of top/cover

 for added reinforcement and protection at crown area
c. 

Extra-Thick Vinyl along Valance perimeter

 for added protection when pulling on straps
d. 

Stainless Steel buckles

 on straps
e. 

Supreme Velcro

 overlaps at ends
f. 

High-Strength Denier Rating
g. Top/Cover includes 

bag for storage
h. *************************************************
i. *****************************************************
j. 

one-piece top 

k. 
flame certification patch
 on underside of covers
l. 

Reinforced stitching

 throughout tent
m. 

polyester 

side-curtain (sidewall) rope

 securely reinforced around tent perimeter
n. 

heat-sealed construction

 throughout tent top/cover with stitched reinforcement