*40' x 100' Used Frame Tent SuperSale for Miami-Dade or Broward County Customer (Single & Twin Tube Hybrid Aluminum)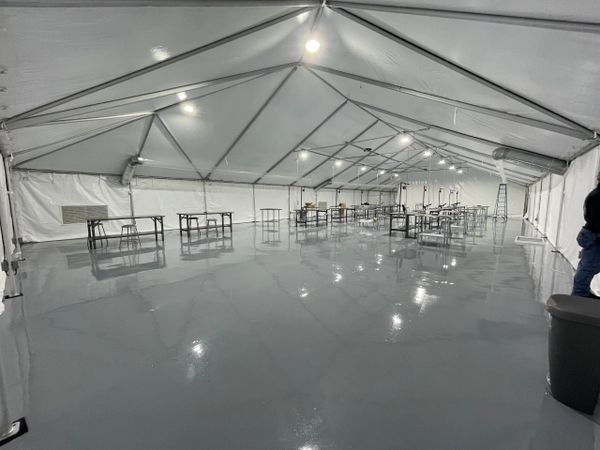 *40' x 100' Used Frame Tent SuperSale for Miami-Dade or Broward County Customer (Single & Twin Tube Hybrid Aluminum)
Priced to sell quickly for right Buyer!
Tent is still assembled and located in Miami area. Great deal for local party rental business.
Looking for a buyer that is willing to disassemble the tent and take it to their local facility as part of the deal. Seller is willing to have all electrical and other items cleared to facilitate disassembly.
Note

: This

almost-new frame tent, in pristine condition

, is a commercial-quality twin-tube frame tent, not to be compared with less expensive single tube frame tents.

The tent has only been used indoors for about 6 months and is practically new and in great shape.

It is very useful for supplying shelter to multiple people after natural disasters or for many other purposes. 
No tools are required for assembly (except for cross-bars)
. This particular tent may be comfortably used for sleeping quarters for, approximately, 120 to 160 people or serve as a cafeteria-style mess hall for, approximately, 400 to 450 people.
(Click on Blue Arrow Below)
1.   Above price includes the

used

 

complete anodized aluminum tent frame,

 as-is, and as shown in the pictures and sketch (sketch shows 40 x 80 only), except that the sidewalls are not included (new sidewalls may be purchased separately). The tent contains 

2 inch anodized aluminum O.D. tubing

, 5-Piece

16 Oz.

 

waterproof, white vinyl top/cover

 with sun blockout and 

flame and mildew retardancy

. Also included are all of the 

anodized 

aluminum adjustable legs (7 Ft. to 10 Ft. high)

 and all other required 

galvanized steel

 frame fittings

 (fittings are 1-3/4 inch O.D. galvanized steel)

.

Air-conditioning ducts, compressed air-ducts, high-efficiency lighting, and 115 V electrical outlets are included.

 
Advertised Price includes the following frame parts:

 
Four- corner fittings, Eighteen-mid-leg rafters, Two-6-way crowns, Six- 4-way top (expansion) fittings, Four-airplane fittings, Four- 6-way side fittings, Eight- 125-1/2 inch tubes (2 inch O.D.),

Seven

-cross-bars

, Sixteen-172 inch tubes (2 inch O.D.), Thirty-Four-112 inch tubes (2 inch O.D.),

Sixteen- 21 Ft. by 6 inch 

double-barrel twin-tube trusses

 (2 inch O.D.

), and Twenty-Eight-

 adjustable legs with bases

 (2 inch leg insert).
2.  Tops/Covers also includes the following features for the best of quality:
a. Heavy-Duty 5-Piece

16 Ounce White Vinyl Top/Cover

 (other standard, non-standard, and custom solid colors & fabrics or colors with stripe combinations are available - refer to "Vinyl Top Color & Fabric Options" on this same page)
b. Double-Ply Vinyl Patches at peak of top/cover for added reinforcement and protection at crown area
c. Extra-Thick Vinyl along Valance perimeter for added protection when pulling on straps
d. Stainless Steel buckles on straps
e. Supreme Velcro overlaps at ends
f. High-Strength Denier Rating
g. Top/Cover includes bag for storage
h. ********************************************
i. *********************************************
j. 5-Piece 16 Oz. Vinyl Commercial Quality Top
k. flame certification patch meeting Fire Marshall Codes on underside of covers
l. Reinforced stitching throughout tent
m. polyester side-curtain (sidewall) rope securely reinforced around tent perimeter


n. heat-sealed construction throughout tent top/cover with stitched reinforcement