King 8 inch Mattress (SnugglyRest Promo Collection)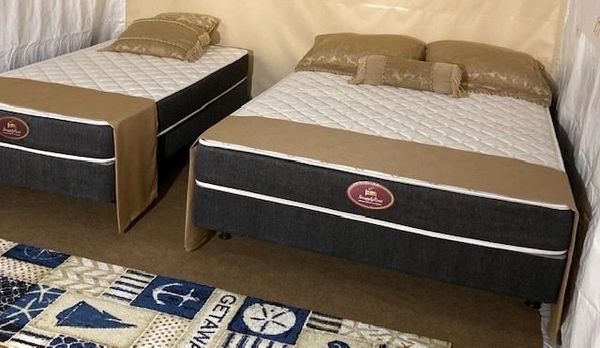 King 8 inch Mattress (SnugglyRest Promo Collection)
"Free 1st Floor Door-To-Door Residential Delivery" is available in Miami-Dade and Broward Counties only. Note that in order to qualify for this free "1st Floor Door-To-Door Residential Delivery" in Miami-Dade or Broward County, Condominium or Apartment Building residents must accept delivery at the lobby or other 1st floor entrance location. The customer will be responsible for making arrangements to take the mattress from the first floor delivery location to their own apartments. White-Glove delivery service options are available for customers requiring to have their mattress taken inside their residence or to higher floors; additional charges apply (see options). Please call us for White-Glove pricing if you have any special requests at 844-756-4495.


Note: The correct shipping rate category must be selected in the menu option for all orders in order for Carpa Supply to be able to process the order correctly. A $.01 (1 penny) shipping charge will appear at the end of all orders in order to enable the shipping system set-up! 
Includes 1 premium quality Hybrid 8 inch thick King Size Tight-Top PROMO Mattress (SnugglyRest Hybrid Grey SRS700 Series Promo Collection) in a Firm comfort level. A Heavy-Duty Foundation is also available as an option for an additional charge (please select appropriately in options section). 
Note: This mattress is manufactured with top quality fabric-encased coils (not to be compared with less expensive Bonnel or Verti-Coil innerspring mattresses) 

This mattress collection features up to 720 fabric-encased coils. What this means is that the individual coils inside of the mattress are not connected to each other. Each individual coil inside of the mattress is independently wrapped in a white fabric that permits each coil to lend support and work separately from all other coils inside of the mattress. Individually wrapped, or, fabric-encased coils, are extremely durable and will last for years. They do not wear down over time making them a great support system for your body. Overall, they offer superior comfort and pressure relief than traditional bonnel coil and verticoil systems sold by competitors and, therefore, make for a higher quality mattress. The ultimate effects of this fabric-encased coil system, to name a few, are: 1.)  a better night's sleep  2.) mattress sagging prevention  3.) less disturbance to whomever is sleeping on the same mattress with you since your movement affects only coils that are positioned under your sleep zone and vice-versa  4.) the encased coils are evenly distributed up to the edges of the mattress so that you can sit on the mattress edges without ruining the coil system.
Finally, a very important benefit of this type of mattress design is that it allows you to sleep 20 to 40%  cooler than other mattress configurations.   
"SnugglyRest Promo Collection"  mattresses feature: 
***up to 720 Pocket Coils ***Quilting Damask Fabric*** Chasen Pad ***Flame Retardant barrier .5 oz Upholstery ***7/8 inches of Medium Density Foam ***Foam Encase Rails for better support*** 7/8 inches of 1240 Density Foam 
Note: